Book a Heritage Walk for your group or family in or around Bradford and Bronte Country. All walks are guided by experienced guide and local historian, Helen Broadhead.
 Bradford's Industrial Heritage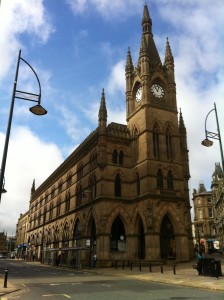 The Wool Exchange, Bradford
Walk Highlights:
magnificent Victorian architecture from Palladian revival to Gothic
the Wool Exchange and its  ornate interior
the first prestigious bank building
the Midland Railway company's showcase hotel
Bradford Cathedral (an optional extra!)
Bradford's woollen  industry goes back to at least the fourteenth century, due to its rich local resources of soft water, coal and iron, but the industrial revolution transformed its fortunes. In the first 30 years of the nineteenth century it went from a rural market town to an industrial town with 38 worsted mills. It was nicknamed  "the Metropolis of the Worsted Trade" and processed two thirds of the country's wool production. New commercial buildings were erected using local high quality sandstone and the best architects and builders. Many of these remain today as testament to the wealth of the city during the nineteenth century.
Come and see for yourself and find out about the fascinating history of this once magnificent city.
Bradford Jewish Heritage Trail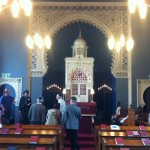 The Aron Kodesh or, in English, the Ark, where the Torah (Scrolls containing the five Books of Moses) are kept during the service.
Walk Highlights:
grand public buildings funded by Jewish merchants
earliest Reform Synagogue site, and former Orthodox Synagogue
the Schiller-Verein
tour of the Reform Synagogue, Bowland Street
Little Germany (on longer tours)
The Jewish Heritage Trail was first created by Nigel Grizzard in the 1980s, and later further developed by Benjamin Dunn with the help of Heritage Lottery funding in 2011-2013. I was delighted to be involved in this project known as Making Their Mark, as I knew from my own researches that the Jewish textile merchants, who began to arrive in Bradford from Germany in the 1820s, had indeed made their mark on this city. As well as Little Germany, the area most often associated with them, they built or helped fund many public buildings, including St. George's Hall, the Wool Exchange, hospitals and schools, as well as their own Synagogues and institutions. Some also played a crucial role in increasing trade with the continent.
Come and discover more of the history of the Jews of Bradford on this tour of Bradford city centre and the Manningham area. Little Germany may also be included if requested.
Image courtesy of Making Their Mark: Bradford Jewish Heritage Trail http://bradfordjewish.org.uk/900-2/
Saltaire: Titus Salt's model village.
Titus Street, Saltaire  
 Walk highlights:
Salts Mill with David Hockney Gallery
 Beautiful Italianate architecture
 Mill workers' houses on streets named after Titus Salt's children
 Original school, hospital and alms house buildings
Saltaire was named after its founder, Titus Salt, and the river it was built beside, the river Aire. The village, which is still largely intact, was built between 1853, when the mill was opened, and the 1870s.  No money was spared to make the village and mill as attractive as possible. Salt wanted to provide his workers with healthier living and working conditions than those he had seen in Bradford. But was he motivated purely by philanthropy? Come and find out on this fascinating tour led by a costumed guide!
Small adult and school group bookings are especially welcome for this easy town walk. A tour of the beautifully renovated Roberts Park, originally Saltaire Park created by Titus Salt, is an optional extra!
Victoria Hall, Saltaire, is also home to the Wurlitzer Organ, Opus 2208, originally Installed in the Gaumont Cinema, Oldham, 1937. Members of the  Cinema Organ Society Northern Branch practice here regularly and welcome visitors. You may be lucky and hear them on your tour!
For more information see http://www.cosnorth.co.uk/
Image courtesy of Tim Green aka atoach 
Shipley Glen Tramway walk
Walk Highlights:
 Ride on the Shipley Glen Tramway
 Explore the remains of the old rides on Bracken Hall Green
 Hear stories about the area's colourful old characters
Meet at the Half Moon Cafe - a Grade 2 listed building in the beautifully restored Roberts Park (originally created by Titus Salt) – for a circular walk up Shipley Glen to Bracken Hall Green. Hear all about the area's colourful old characters and their enterprising schemes while you take in the breath-taking views! This walk incorporates a ride either up or down the recently restored Shipley Glen Tramway. At the bottom you can visit the Tramway's own museum –  see photographs of Victorian ladies enjoying the 'Toboggan  Slide'!  Reminisce about the fondly remembered fun fair at the top of the Tramway. Find out more about how the Tramway works. Distance:  3 miles. Moderate. Image courtesy of www.glentramway.co.uk Dates for this local history walk:
Date
Meeting Point
Time
Book (click below to book)
***Please contact me for dates***
Thornton
The Bronte Way to Moscow!
Walk Highlights:
Old Bell Chapel
Bronte Birthplace
Scenic walk around Doe Park Reservoir
Moscow – in Thornton!
A walk from the Old Bell Chapel, Thornton near Bradford, following in the footsteps of Patrick Bronte as he did his parish round, from Denholme to Moscow (in Thornton!). A beautiful scenic walk via Doe Park Reservoir.
Distance: 4.5 miles. Hard.
Dates for this local history walk:
Date
Meeting Point
Time
Book (click below to book)
***Please contact me for dates***
The Great Northern Trail: Thornton to Queensbury
Walk Highlights:
Thornton victorian viaduct
Elizabethan & seventeenth century Halls
'Queensbury Railway Triangle'
Scenic countryside
A walk from Thornton near Bradford, starting at the Great Northern Hotel, Thornton Road, along a section of the Great Northern Trail to the 'Queensbury Triangle', passing an Elizabethan manor house on the way. Return via the site of the Clayton Fireclay Works.
Distance: 3.5 miles. Hard
Dates for this walk:
Date
Meeting Point
Time
Book (click below to book)
***Please contact me for dates***
 Thornton Village: Birthplace of the Brontes and more…
Walk Highlights:
Corn and textile mills
Old Chapels & graveyards
Seventeenth century Manor House
Elizabethan hall
Old Thornton Grammar School
A variety of 1.5 – 2.00 hour walks around the old snickets and ginnels of this village near Bradford dating back to the eighteenth century. Or venture further afield into the lovely surrounding countryside where old houses have quaint names like Salt Pie, Thowt It and World's End.
Distance: 3 – 4.00 miles. Easy to Hard
for more info on Thornton village see  http://www.thornton-village.co.uk
Dates for this walk:
 Keighley
Keighley at the time of the Brontes:
Walk Highlights:
The Parish and Methodist Churches
The Mechanics' Institute
The first Carnegie Library
The Police museum
A walk around the Brontes' nearest town, starting outside the Parish Church, to discover more about its turbulent history in the midst of the Industrial Revolution and since. Distance: 2 miles. Easy.   Dates for this local history walk:
Date
Meeting Point
Time
Book (click below to book)
***Please contact me for dates***
Image courtesy of Keighley Shared Church